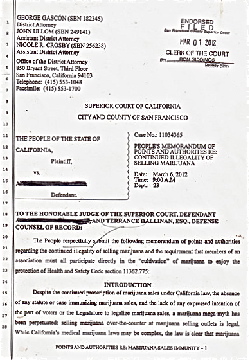 March 2012  By Fred Gardner
In a fluorescent Hall of Justice hallway, a silver-haired defense lawyer pulled a document from his worn but classy leather briefcase. "You have to read this," he said to a reporter. "The DA is saying 'all sales are illegal, all dispensaries are illegal.' Can you believe it? This is San Francisco!"
Seems like only yesterday this lawyer, Terence Hallinan, was the DA, the top law-enforcement officer in the City and County.
The document he handed me – "Memorandum of Points and Authorities re: Continued Illegality of Selling Marijuana" – was filed March 1 by District Attorney George Gascon and signed by Assistant DA John Ullom. It was addressed to the judge, the defendant, and "Terrance [sic] Hallinan, Esq., Defense Counsel of Record." The misspelling of his name didn't bother Terence (I made it for a Freudian dis), but he didn't like the attempt to undo his signal political accomplishment: a regulated distribution system in San Francisco for the once-forbidden herb.
In 2003 Kamala Harris outpolled Hallinan, who was seeking a third term as DA. Though not as supportive of the medical marijuana industry as Hallinan had been, Harris was by no means hostile. In 2010 she ran for state attorney general and won a narrow victory over LA District Attorney Steve Cooley, considered an arch foe by the industry because he was moving to close LA dispensaries on the grounds that sales are illegal.
To replace Harris, San Francisco Mayor Gavin Newsom appointed George Gascon, who had spent most of his career in the LAPD, rising to assistant chief and acquiring a law degree along the way. Gascon became the police chief of Mesa, Arizona, in 2006, and won the respect of liberals by countering Sheriff Joe Arapaio's lies about immigrants causing an increased crime rate. (Gascon's parents had emigrated from Cuba in 1967.) Newsom brought Gascon to SF as police chief in August 2009, then moved him to DA in January 2011. Greg Suhr was then appointed to replace Gascon, restoring the dominance of the narco-clique within SFPD. (See graphics at bottom of this page.)
Hallinan says that during Gascon's time in office and in his election campaign he gave voters no indication that he intended to move against San Francisco's medical marijuana dispensaries. Now, in the memo addressed to "Terrance," Gascon charges that "a marijuana mega-myth has been perpetuated… a semantogenic shell game…" And what is this fancy-phrase-inspiring fraud? It's the legality of marijuana sales (the method by which commodities are generally exchanged in our society).
"Marijuana Sales are Illegal" asserts Point One of the SFDA memo. Defense specialist Bill Panzer comments: "The sales-are-illegal theory was developed by one of Steve Cooley's deputies named Joe Esposito. Cooley sent people from the LA DA's office to other counties to give seminars. The Sonoma county DA has been arguing that sales are illegal, and the DA in Tehama County got a judge to agree that collectives can't exchange money for any purpose whatsoever." Panzer adds, "I can see them trying to put it over in Tehama County, but San Francisco?"
Point Two of the SFDA memo is a review of "California's Medical Marijuana Statutes" that Panzer calls "misleading." Gascon asserts that the law created by Prop 215 "provides limited affirmative defenses to patients and their primary caregivers for personal possession,individual cultivation, and medically related transportation." This is not the wording of Prop 215, but an interpretation by a prosecutor of an interpretation by judges. "The voters intent in passing the CUA has been established by case law," according to Gascon, citing a 1997 appeals court ruling (in People v. Pebbles Trippet):
"both the statute's drafters and the proponents took pains to emphasize that, except as specifically provided in the proposed statute, neither relaxation much less evisceration of the states marijuana laws was envisioned… In the ballot pamphlet rebuttal [District Attorney Hallinan, a CUA proponent, stated] that the proposition 'only allows marijuana to be grown for a patient's personal use. Police officers can still arrest anyone who grows too much, or tries to sell it.'"
Did Gascon and Assistant DA Ullom chuckle when they discussed using Hallinan's own words against him and his client? The ballot pamphlet rebuttal that Hallinan signed back in the spring of '96 had been drafted by Bill Zimmerman, a Santa Monica p.r. man who had taken over from Dennis Peron as campaign manager. "Ballot arguments are written with winning the election in mind, not implementation," observes Panzer, a co-author of Prop 215. "But courts should only take them into account when there is ambiguity in the law itself, and in this case there's is no ambiguity.
"Prop 215 doesn't provide an affirmative defense," says Panzer, "it provides a limited immunity to arrest and prosecution. The language is clear, and the state Supreme Court said so in the Mower decision. An affirmative defense requires the defendant to prove innocence by the preponderance of evidence. Limited immunity puts the burden on the prosecution to prove beyond a reasonable doubt that the crime did notinvolve medical use."
Panzer says he once asked Joe Esposito about the practicality of no money changing hands within a collective. "I described a two-person collective. The electric bill is $200. If we each pay PG&E $100, that's legal. But if I write them a check for $200 and you reimburse me $100, is that illegal?"   Esposito replied, "I'm not gonna answer that, but it's a good question."
Pebbles Trippet, an activist whose legal acumen is far superior to most lawyers', thinks the sales-are-illegal argument presents a serious challenge. The law created by Prop 215 makes no reference to sales. SB-420, a measure passed by the legislature in 2002 to "clarify and implement" Prop 215, entitles patients to engage in "collective, cooperative cultivation." In the Urziceanu case, a conservative appeals court panel in Sacramento ruled unanimously that this implied the right to sell and distribute. Production and distribution had to remain within a closed loop (no sales to non-members), according to guidelines issued by the attorney general's office under Jerry Brown.
Pro and con arguments in the Voters Handbook are not the only basis on which people decide how to vote on an initiative, especially one as highly publicized as Prop 215. Attorney General Dan Lungren, the leader of the No-on-215 campaign, arranged for the Bureau of Narcotics to raid Dennis Peron's San Francisco Buyers Club on August 4, making front-page headlines from Crescent City to San Diego. As Bill Zimmerman pointed out, the opposition goal was to remind the electorate that Prop 215 was the work of "a drug dealer from San Francisco."
The raid on the SFCBC was ridiculed in a week's worth of Doonesbury strips. Lungren wrote an open letter to editors and publishers urging them not to run the strips. Gary Trudeau weighed in with a second week of strips in October. Certainly, to many voters, Prop 215 was a referendum on the SFCBC's right to operate. In Southern California, TV ads developed by Zimmerman featured an actor in a white coat dispensing herb in glass jars in a bright, clean pharmacy. Whether the five million people who voted "Yes" on Nov. 4 looked favorably on Dennis Peron's bustling club or Bill Zimmerman's conventional drug store, the model they had in mind involved sales.
The "Culture" of SFPD
When I was Public Information officer for the District Attorney of San Francisco (2000-2002), I used to shoot hoops in the gym on the 5th floor of the Hall of Justice, which was used mainly by police officers. One day a cop expressed himself by hanging up a t-shirt in front of his locker: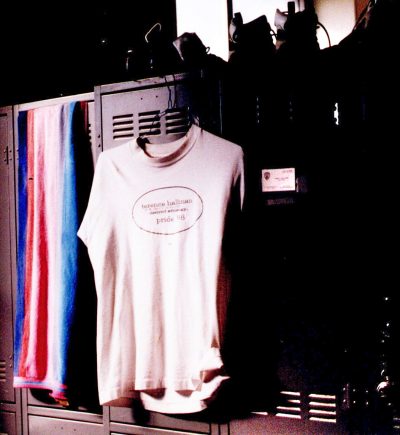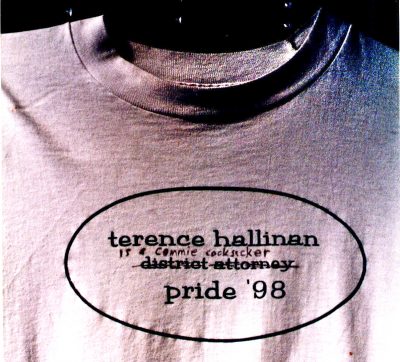 I told him to take it down, which he did.