Note to the SCC from Fred Gardner April 28, 2016      It was my good fortune in Tokyo to meet Koichi Maeda, leader of the Japan Medical Marijuana Association.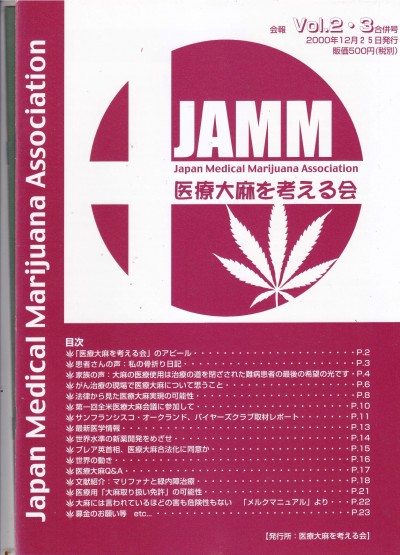 His journal has been published even more sporadically than O'Shaughnessy's —four issues in 15 years. There has been very little "local angle" to report on because marijuana prohibition in Japan is total and unabated. Although Japanese scientists have been in the forefront of elucidating the endocannabinoid system, and a leading pharmaceutical manufacturer, Otsuka, has backed research by G.W. Pharmaceuticals, the media has not reported their accomplishments to the Japanese people.
Cannabis prohibition was imposed by the U.S. occupation command under General Douglas MacArthur in the years following World War 2. A scholarly article  by Tempei Miyaji and colleagues at the Graduate Schools of Medicine at Tokyo and Tohuku University, just published in Cannabis and Cannabinoid Research 2016 1.1., pinpoints the memoranda that were incorporated into Japan's Cannabis Control Act of 1948. They impede research to this day.
Miyaji et al conclude:
Currently, clinical research on phytocannabinoids is prohibited in Japan based on regulations that were instituted during the postwar period of World War II, which have contributed to the valley of death in can- nabinoid translational research. These prohibitive regulations have been an undesired obstacle to the phytopharmacological development of Cannabis for almost 70 years. Scientific discoveries in cannabinoid research have accelerated our understanding of the potential benefits of these agents. Consequently, there have been positive reforms of the regulations governing Cannabis globally, and Japanese regulatory bodies are now faced with the window of opportunity to revise article 4 of the CCA.
Maeda hopes his group may have broken through the blackout/blacklist earlier this month when a popular Tokyo TV news show devoted five minutes to the subject of medical marijuana. The segment included an interview with Kazunori Fukuda, MD, a knowledgable proponent who has written a book on Cannabis-based Medicine.  Maeda and Fukuda have been waging a long, lonely fight, thanks to "US."
Maeda asked how we —American proponents of cannabis as medicine— have been able to achieve so much, whereas his movement is just stayin' alive.  It goes back to the '60s, I hypothesized, when millions of young Americans started using marijuana. Japan didn't send its young men to Vietnam and has no border with Mexico, so the wall of prohibition was not breached. [Paul McCartney was jailed for nine days in 1966 when marijuana was found in his luggage upon arrival in Tokyo for an 11-city concert tour with his new band, Wings. He was then deported. Only his celebrity spared him a long term in prison.]
The legalization of marijuana for medical use of marijuana in California and beyond was made possible by the reality of mass use —millions of people knowing first-hand or from a trusted friend or relative— that the herb was benign. Millions of us knew in front that the government was lying. "We" deprived the Japanese people of that understanding.