By Fred Gardner   The Medical Board of California (MBC) will vote today (10/27) to adopt "
Guidelines for the Recommendation of Cannabis for Medical Purposes."
 The guidelines were drafted by a two-member task force that relied heavily on input from the Center for Medical Cannabis Research (CMCR) at UC San Diego. The draft guidelines do
not
include provisions promoted by the Federation of State Medical Boards that pro-cannabis doctors considered onerous. (Read the background
here
.)
"Thankfully absent," says Steve Robinson, MD, are provisions in the Federation's "model guidelines" that would have
• allowed only a patient's primary physician to approve their use of cannabis —and only after pharmaceutical options had failed;
• created a registry of cannabis-using patients;
• required that a patient be seen in person before an initial approval is issued (Goodbye, Hello MD);
• triggered investigations of physicians based on number of approvals issued.
• Barred doctors who approve cannabis use by patients from using cannabis themselves (even as medicine).
Colorado and other state medical boards have adopted such provisions in their practice guidelines. The Society of Cannabis Clinicians urged the California board to reject them and reiterated their objections in a letter to the Journal of the American Medical Association. Robinson said he "breathed a sigh of relief" in late August when the MBC task force published their draft guidelines and the SCC's negative wish list had been granted.
Now, however, Robinson is concerned that an appendix to the MBC guidelines —a "Decision Tree" for physicians developed by the CMCR— presents cannabis a treatment of last resort. (See graphic below.)  Given the medical board's power and the fact that very few physicians have had any education with respect to cannabis, the handy "Decision Tree" is apt to be widely heeded.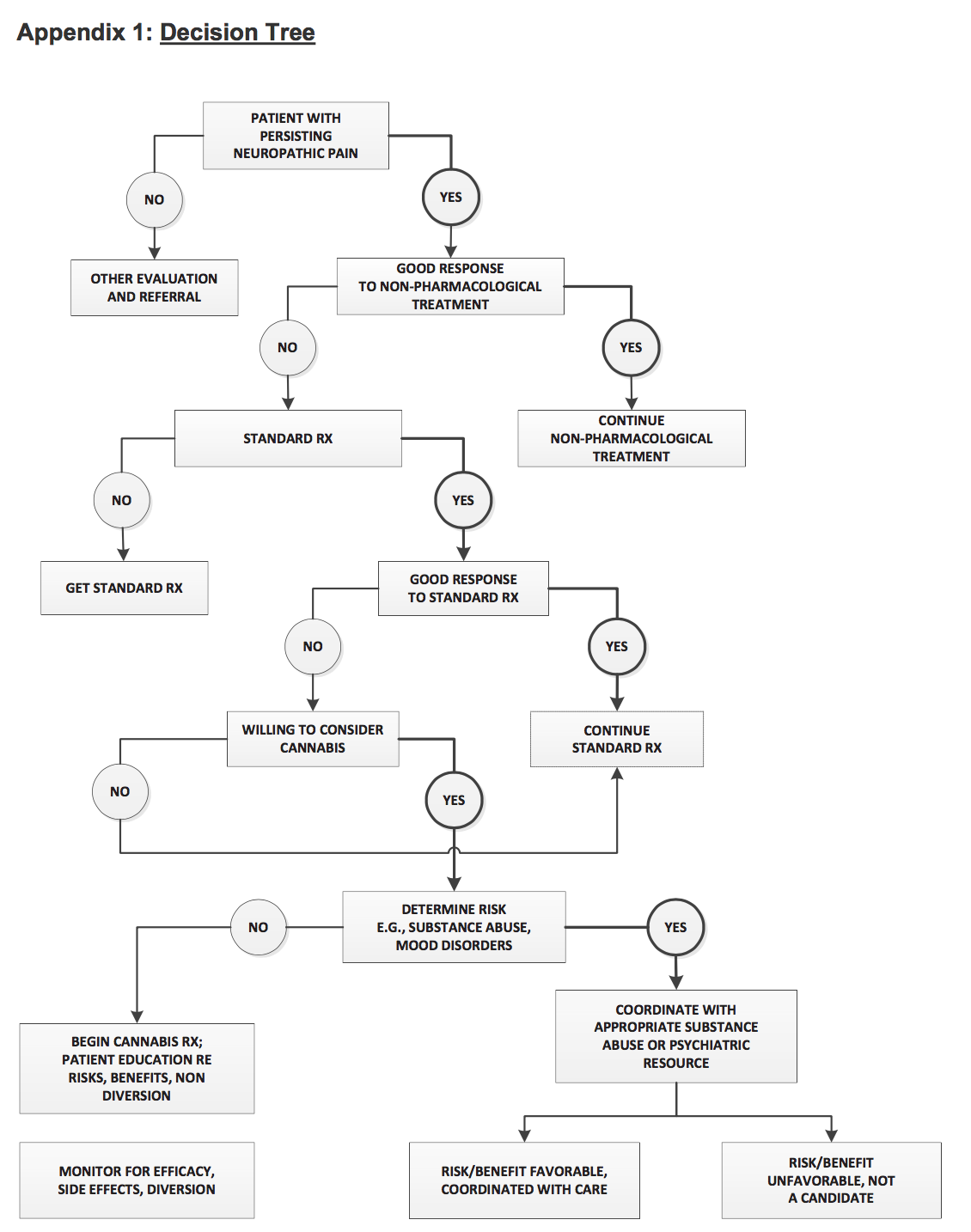 Dr. Robinson comments,
"The proposed Decision Tree contradicts the more 'progressive' stance of the draft guidelines, which reflect MBC policy and explicitly state, "A patient need not have failed on all standard medications in order for a physician to recommend or approve the use of cannabis for medical purposes."

The Decision Tree needs to reflect this policy, which could be done by moving the choice point of "willing to consider cannabis" up from the fifth-tier decision level to the third-tier decision level, on par with "Standard RX."
Perhaps the med board will decide to reconfigure the "Decision Tree" at today's meeting.  The session will be webcast —view it here— and members of the public can comment and ask questions. Hard to say when they'll get to agenda item 18 —MBC publicist Jennifer Simoes guesses between 10 a.m. and noon. The number to call is 888-455-9726 and the passcode is 8280664. "Callers will be asked to verbally provide this code to the operator to enter the meeting," says the agenda.
In addition to the "Decision Tree," the MBC guidelines include an "Agreement" that physicians can give pain patients to sign upon granting approval to use cannabis. This one-sided "Agreement," drafted by CMCR psychiatrists Barth Wilsey, MD, and Igor Grant, MD, was provided as a handout at the August 30 meeting of the MBC's Cannabis Task Force. It has been revised with input from Dale Gieringer of California NORML and the Society of Cannabis Clinicians. Gieringer thinks "significant improvements" have been made.
Your correspondent thinks the "Agreement," which was modeled after a pledge opiate users sign upon getting a prescription, is inherently misleading. Cannabis is not a dangerous drug.
In the retrograde-messenger spirit of the plant itself, we hereby provide
O'Shaughnessy's Agreement for Physicians Issuing Cannabis Approvals

Date:

I, ______________ (clinician name) am treating. _______________   (name of patient) for chronic pain.

1. I acknowledge that in medical school I learned nothing about the body's endocannabinoid system or cannabis as medicine.

2. I began approving cannabis use by patients in _________________ (year)

3.. To educate myself about medicinal cannabis I have

• taken CME courses (please list)

• read relevant books and periodicals (please list)

• attended conferences on medicinal cannabis (please list)

4. I belong to a group of clinicians who share findings and observations re cannabis, and keep abreast of the emerging scientific and clinical evidence.

5. In treating pregnant women, I follow the "Best Practices Guidelines" developed by Wilson-King and Sexton for the Society of Cannabis Clinicians.

6.  I am familiar with the findings of Tashkin et al showing that cannabis smoking does not cause lung cancer or exacerbate COPD.

7. In general, I consider whole plant cannabis extracts more efficacious than single-molecule formulations.

8. Facilitating socialization is one of the major benefits of cannabis use. I support on-site consumption at cannabis dispensaries.

9. I strongly urge patients not to get behind the wheel when they're stoned —an assessment only they can make.

10. Although annual re-evaluations are required by the medical board, I recognize that in many cases they place an unnecessary, costly burden on patients.

11. I consider it unfair and UnAmerican that patients who do not use cannabis at work and who have shown no signs of impairment on the job can be fired on the basis of metabolites in their urine.

12. I am familiar with the extensive Clinical Evidence showing that pain patients can reduce or eliminate use of opiates, sedative-hypnotics and/or alcohol by using cannabis instead.