In hockey. scoring three goals in a game is a hat trick. In public relations, there is no term for planting, on one day, two different stories, each with a

photo, on the front page of the New York Times and the East Bay Times (formerly the Oakland Tribune). That's what Gaynell Rogers accomplished on October 25.
The Times story by Thomas Fuller, hedded "Election May be a Turning Point for Legal Marijuana," quoted Rogers's clients Steve DeAngelo and Troy Dayton:
The market for both recreational and medicinal marijuana is projected to grow to $22 billion in four years from $7 billion this year if California says yes, according to projections by the Arcview Group, a company that links investors with cannabis companies.

"This is the vote heard round the world," said Arcview's chief executive, Troy Dayton. "What we've seen before has been tiny compared to what we are going to see in California."

And yet scholars who have studied these legalization measures say that to a large extent they are very much a shot in the dark, a vast public health experiment that could involve states that hold 23 percent of the United States population — and generate a quarter of the country's economic output — carried out with relatively little scientific research on the risks. In addition, there are 25 states that already permit medical marijuana.

To hear proponents of legalization in California tell it, a yes vote here would allow the same benefits seen in Colorado — a sharp reduction in drug arrests and a large increase in tax collection — but on a scale many times larger.
After years of resistance, proponents say their long-sought goal is finally within reach.

"My ultimate objective is to get this plant into the hands of every single human being on the planet who needs it — and in my view that's everybody," said Steve DeAngelo, the founder of Harborside, a medical marijuana dispensary in Oakland that bustles with clients taking advantage of a medical marijuana law that has been in place for two decades.

"It's almost a religious spiritual thing," Mr. DeAngelo said. "Mother Nature gave us this healing plant."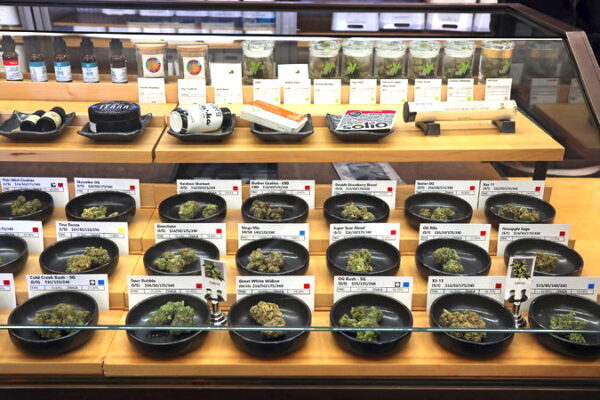 Of course the job is easiest for the publicist when the client is doing newsworthy things and providing memorable quotes. Given Steve DeAngelo's evangelical tone, it's too bad the title "guru of ganja" has already been  claimed…  The front-page photo showed Cannabis buds on offer in a Harborside Health Center display case.  When O'Shaughnessy's ran a similar photo in 2009, our focus was on the labeling of the buds with respect to CBD content (as well as THC, of course). It was DeAngelo's commitment to lab testing that made possible the identification and widespread production of CBD-rich Cannabis in the US.  
The East Bay Times front-pager described a conference held in Oakland Oct. 24 on "Opportunities in Legal Cannabis" that was geared towards entrepreneurs of color and co-sponsored by Harborside. "DeAngelo said the conference came about as a result of his conversations with Rep. Barbara Lee, D-Oakland, and (former San Francisco Mayor Willie Brown) about the paucity of nonwhites in the lucrative cannabis industry," Tammerlin Drummond reported.  Brown and state NAACP director Alice Huffman gave talks making the point that people of color had been especially victimized by marijuana prohibition.  Sue Taylor, former principal of a parochial school, recounted the steps she took to launch iCannin Berkeley. A dignified grandmother and "one of the rare African-American dispensary owners," Drummond noted, Taylor "shared her journey from someone who went from considering  'marijuana a dangerous drug like cocaine,' to being the face of senior cannabis users."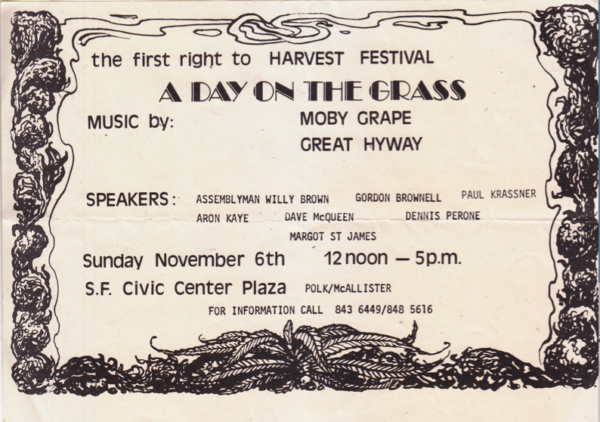 Formidable Willie Brown started out in San Francisco in the '60s as a lawyer defending, among others, marijuana dealers and users facing criminal charges. He never turned his back on the people he represented.  As mayor in August 1996,  Brown accused the state Bureau of Narcotics Enforcement of "Gestapo tactics" after the raid that shut down the San Francisco Cannabis Buyers Club… And now, 20 years later, on the eve of legalization, he's a lobbyist for Harborside Health Center, among others, and still trying to help some brothers and sisters… How does Willie Brown get so much done? He once told Terence Hallinan that he needs only three to four hours of sleep a night!