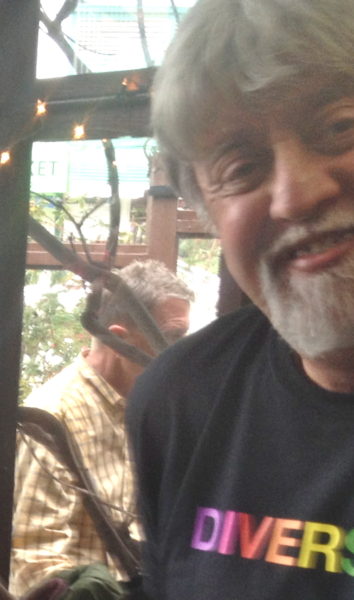 I saw Gilbert Baker about a month ago at Cafe Flor. A bunch of us were waiting for Dennis Peron, who had been delayed at the VA Hospital. "You look great," I blurted out, because he did. He was wearing his new Diversity t-shirt, with colored letters against a black background. His full head of hair was only half-way to gray at age 65.
And last night he died.
In my so-called files I found a picture of Gilbert shaking hands with San Francisco District Attorney Terence Hallinan at a rally in front of the Federal Building soon after Prop 215 passed. Almost immediately thereafter our rulers reconfigured the plaza so that no such gathering of the mob could take place there.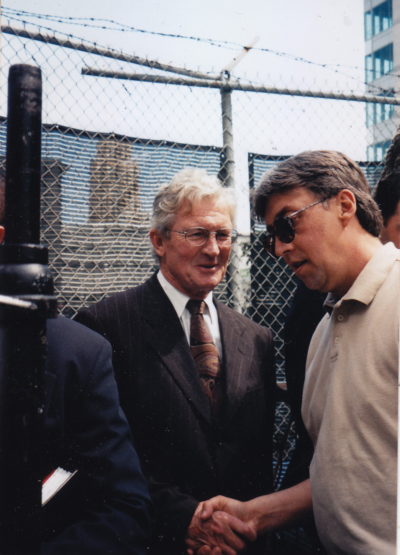 According to the obit by Erin Allday in the SF Chronicle, "Mr. Baker was born in Kansas in 1951 and joined the U.S. Army in 1970. His story as a soldier is told in the book "Conduct Unbecoming," by former Chronicle staff writer Randy Shilts, about gays and lesbians in the U.S. military.
Mr. Baker was stationed in San Francisco just as the gay civil rights movement was taking off in the city, and so when he was honorably discharged in 1972, he stayed put. He went to work making banners for gay and antiwar demonstrations, some for his friend Harvey Milk, San Francisco's first openly gay supervisor.
Milk marched under Mr. Baker's first rainbow flag in the June 1978 San Francisco Gay Freedom parade, just months before he was assassinated.

Mr. Baker continued to create banners for other causes and events. Just a few weeks ago, he met with Supervisor Jeff Sheehy in his City Hall office to talk over ideas for Sheehy's float in this year's Pride Parade."

Gilbert was our own Betsy Ross," said Sheehy, who worked with Mr. Baker repeatedly in the 1990s on political causes. "He was a genius at political theater, at political art. He's one of these heroes who never sought attention for himself. But he was relentless."
And while we're back in '97, here's a picture of the supe-to-be with Dave Spiro at Dennis's SF Cannabis Buyer's Club.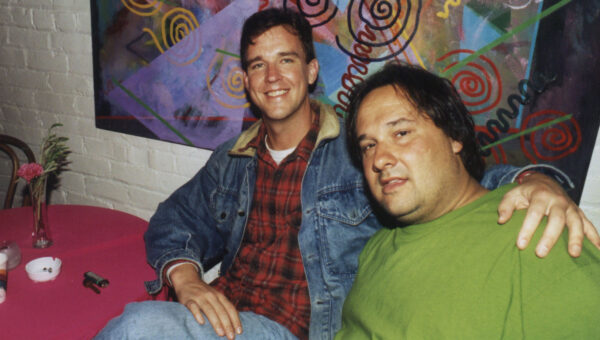 On the day this photo was taken, Sheehy was explaining that the prices of stocks listed on the New York exchange were 30 times higher than what the companies, on aggregate, were worth. Funny what sticks in one's memory. 
May that circle be unbroken. —Fred Gardner