Politicians don't get it: Access to MJ reduces opioid use
The headline across five columns in the New York Times front section April 20 was a disturbing non sequitur: "National Opiate Crisis Stalls Marijuana Legalization."  
Why can't politicians and editors understand that marijuana use enables people to achieve satisfactory pain relief while reducing their opioid intake? It's not counter-intuitive (like the fact that smoking cannabis can relieve an asthma attack). It's a simple scientific reality: two painkillers, potentiated effects, less of each required. But the essential relationship between the two drugs is mentioned nowhere in the story by Jess Bidgood.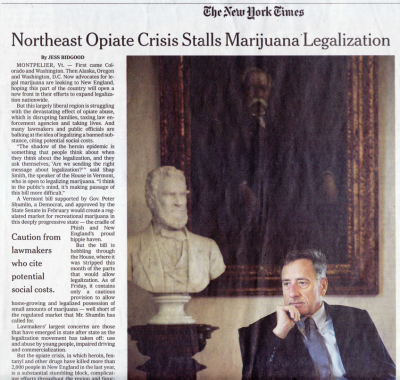 Bidgood writes that a legalization measure proposed by Gov. Peter Shumlin of Vertmont has been drastically weakened by prohibitionists invoking the spectre of heroin:
Lawmakers' largest concerns are those that have emerged in state after state as the legalization movement has taken off: use and abuse by young people, impaired driving and commercialization.
He quotes Massachusetts Attorney General Maura Healey, a Democrat, opposing legalization in the Bay state:
"At a time when we are trying and working so desperately hard to get help to those who need it, telling young people to not do drugs, trying to eliminate some of the barriers to treatment and to promote recovery, this effort at legalization seems to be directly at odds with those efforts"
Being a fair and balanced Timesman, Bidgood  seeks quotes from the leading Reform spokespersons, the go-to guys from MPP and DPA:
Advocates are using the heroin crisis as an argument in favor of legalization, saying that it would move the substance out of the hands of traffickers and that it "would reduce the amount of interaction with hard drug dealers, period," said Matt Simon, the New England political director of the Marijuana Policy Project, a national organization working on legalization.

National advocates of legalization hope that with New England, they can find success in a new part of the country.

"One part of it is demonstrating quite powerfully that marijuana reform is not just a West Coast phenomenon; it's also an East Coast one," said Ethan Nadelmann, the executive director of the Drug Policy Alliance.
Unfortunately, neither one of "0ur" mouthpieces thought to notify the Times that marijuana cuts the need for opioids in half. They had their own soundbites to insert in the paper of record. The MPP dude played the goody-goody card, crusading against "hard drug dealers." Nadelmann congratulated DPA for continuing to wage electoral battle 20 years after usurping control of Prop 215 in California. "The victor belongs to the spoils," said Fitzgerald.