A report called The Health Effects of Cannabis and Cannabinoids: The Current State of Evidence and Recommendations for Research, released in January by the National Academies of Sciences, Engineering, and Medicine (NAS), was the subject of a "Stakeholders Engagement Meeting" streamed from the NAS building in Washington, DC February 21.  I
The authors of the report were evaluating what they called the "strength of the 'evidence'" regarding the health benefits and risks of cannabis as medicine. By far the strongest evidence, from their perspective, are randomized, placebo-controlled clinical trials (RCTs). Clinical evidence —the findings and observations of physicians who monitor cannabis use by patients— is ignored completely. It's not even "low quality!"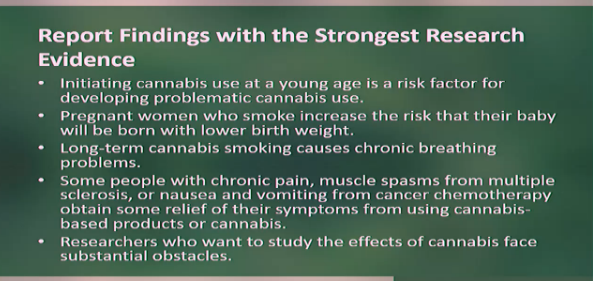 Retro Messages:
1. The number-one finding makes cannabis use at a young age seem causal when in fact it is a response to an environment (family, neighborhood, school) from which the young user seeks relief. 
 2.Women who experience nausea during pregnancy tend to smoke more and eat less. And it may be that the Endocannabinoid System, in its wisdom, is making for a slightly easier delivery. The pot-users' babies gain weight fast and in about a month have caught up with the abstainers' babies.
3. Cannabis smoking doesn't exacerbate COPD, according to the great UCLA pulmonologist Donald Tashkin. (I haven't followed the literature since covering this talk by Tashkin.)
4. The positive finding that "Some people with chronic pain, muscle spasms from multiple sclerosis, or nausea and vomiting from cancer chemotherapy obtain some relief of their symptoms from using cannabis-based products or cannabis" seems like grounds for moving the herb off Schedule I.  
5. The demand of the reform honchos is (and has been for many years): "Remove the barriers to research!" They come on like they're fighting the good fight but they're just playing their part in the stall. A meaningful demand would be: "Acknowledge the clinical evidence!"  
She's seen the light!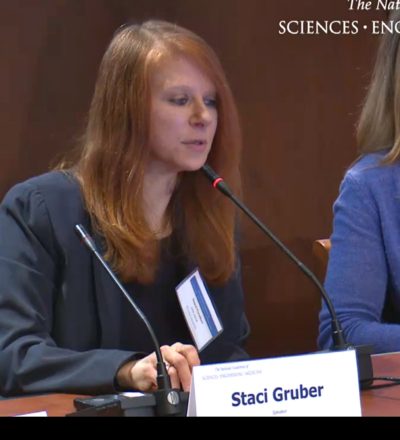 Dr. Staci Gruber, the neuroimaging specialist at McLean Hospital who became a darling of NIDA (the National Institute on Drug Abuse) when she decried the impact of marijuana on the developing brain, surprised us by describing a pilot study called "Splendor in the Grass?" (These puns in titles and headlines are always proof that the author knows the herb is relatively harmless. They would never make light of meth or heroin.)  
Gruber's group studied new users after three months of "MMJ treatment." They found "some improvement on measures of executive functions… reduced sleep disturbance, decreased depression, attenuated impulsivity, positive changes in quality of life… a notable decrease in their use of conventional pharmaceutical agents (42% reduction in opioid use).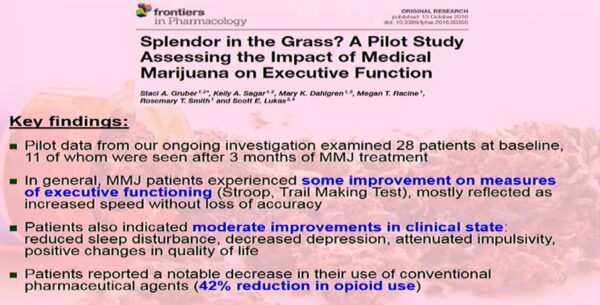 The neoprohibitionist POV was represented by A. Eden Evins, an Addiction Specialist at Harvard Medical School and an advisor to Smart Approaches to Marijuana. (Herb Caen used to say "Never trust a man who parts his name on the right.")
Evins criticized the methodology of the studies cited by the NAS Report that showed benefit, noting that some "Enrolled only experienced cannabis users (compromises blind, minimizes adverse effects). Donald Abrams, MD, put in that he had conducted such studies intentionally because people who don't know how to inhale would skew the results in a test of inhaled medicine. 
Evins provided the inevitable computer-generated "brain damage" graphic.  I think the fried egg was more impressive. —Fred Gardner