By Fred Gardner   The internet cannot convey how big the New York Times played the story headlined "Beneficiary of Electroshock Therapy Emerges as its Leading Evangelist" in  the January 1 print edition.  The top half of page A-13 (first section, righthand side of the spread, which they say is where the eye of the reader goes, so the stories they want to bury run on the lefthand page) was  a color photo captioned "Kitty Dukakis and her husband Michael, a former governor of Massachusetts, last month with a therapy support group at their home in Brookline, Mass."  
Kitty Dukakis is the smiling face of ECT ("Electroconvulsive Therapy"), but who is really pushing it? Reporter Kathleen Seelye informs us "Mrs. Dukakis receives her maintenance therapy at McLean Hospital in suburban Boston, one of the world's largest and most renowned psychiatric hospitals. McLean does about 10,000 such treatments a year, up from 2,000 treatments in 1999… Each patient generally receives eight to 20 treatments." 
For those who assumed that "One Flew Over the Cuckoo's Nest" put an end to the barbaric practice, Seelye reports that the seizures induced by ECT are now kinder and gentler. "In the old days," she explains, "patients convulsed during therapy sessions, sometimes so violently that they broke their bones or teeth. Today, with anesthesia and muscle relaxants, such reactions are rare."
"'ECT is the single most efficacious treatment that we have and the treatment of choice if you absolutely had to get someone out of a severe depression within a day or two,' said Steven D. Hollon, a professor of psychology at Vanderbilt University, who has studied the treatment of depression.
"But, he added, electroconvulsive therapy can potentially cause serious side effects, most notably long-term memory problems, some of which are temporary. Even patients whose depression goes into remission almost always need maintenance treatment, with ECT, antidepressants or both.
"A National Institute of Mental Health study conducted in 2014 and released this year found that new ECT techniques designed to better protect memory, in combination with antidepressants, fully relieved symptoms in 61 percent of severely depressed elderly patients; some were still well six months later. (Of the others, 28 percent dropped out and 10 percent did not improve.)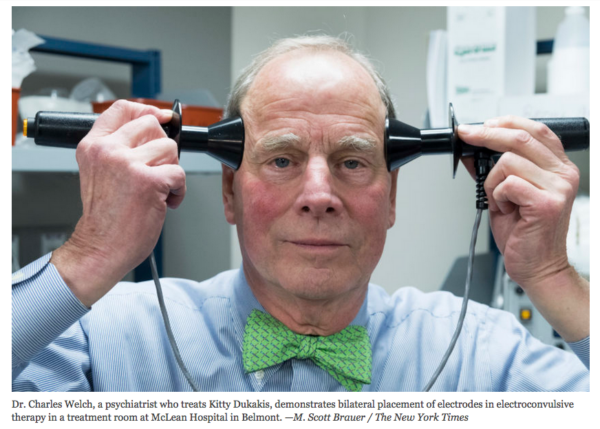 The Times ran a photo of Kitty Dukakis's  bow-tie-wearing psychiatrist, Charles Welch, holding two big electrodes to his temples like "What, me worry?"  Seelye quotes Welch: "Depression is a chronic and recurring illness that requires good lifetime management."  Real meaning: "Keep coming back to get zapped, everybody, I'm setting up trust funds for my grandchildren."
McLean Hospital —which is affiliated with Harvard Medical School— also does a lucrative business in treating people afflicted with "Cannabis Use Disorder."  Maybe NIDA will fund a study of ECT for CUD.
Below the jump of the Times's paean to Electroconvulsion is a news story from the Associated Press headlined, "Massachusetts Delays Sales of Recreational Marijuana." A ballot initiative passed by voters in November legalized use for adults over 21 and would have permitted dispensaries to sell the herb in January 2018; but Republican Gov. Charlie Baker and some Democrats in the legislature claimed to need more time to "thoroughly prepare." So on December 27 they passed a bill pushing implementation back six months — "without a public hearing," the AP noted, "and without debate during informal sessions in both chambers. Only a handful of lawmakers were present."  So much for the will of the people.